Discover more from Rate of Return by Austin Hankwitz
Building a $2M portfolio from scratch | Curated financial news, analysis and commentary to attack the investing day | Subscription details are posted in our About page
Over 12,000 subscribers
I Just Bought My First NFT: Poolsuite.net
Today I purchased my very first NFT: Poolsuite - Executive Member
Hi everyone - in my efforts to remain completely transparent as it relates to all things I invest into, it felt right to share this monumental experience with you all.
Today, Friday Nov. 26, 2021 - I purchased my first
real
NFT.
I'm not talking about fractional shares in an NFT through RallyRd, as mentioned in this old Patreon post. I'm talking about a real NFT that I minted personally that can be viewed by anyone in my OpenSea wallet.
Full disclosure, the other NFTs in my wallet were gifts from friends. I did not purchase them. Collectively they're worth about $800 or so.
---
Backstory:
I'm going to start this post off with the assumption that everyone reading it has at least heard of the term "NFT," and have at least a vague understanding of what they are.
In my own words, I would compare an NFT to a library card - without a "library card" you're unable to access the books (goods & services) offered by the establishment (library).
A fantastic example of a successful NFT project is VeeFriends - launched by none other than GaryVee. If you're not familiar with Gary, I highly recommend reading his book Jab, Jab, Jab, Right Hook.
What made Gary's NFT project so successful? How do you measure success?
You've probably seen a lot of mumbo jumbo online about NFTs - random people creating artistic images, building hype around their release, then charging people cryptocurrency to purchase them.
Unfortunately, owning "hyped up" NFTs can be similar to owning a "hyped up" Pokemon card - something that might increase in value over a short period of time after celebrities mention their ownership, then quickly decrease in value as the "hype" dies off.
What's interesting about GaryVee's NFT project is its correlation to the real world.
For example, by owning a VeeFriend you are granted access to VeeCon for throughout the next 3 years - an exclusive multi-day conference focused around business, marketing, ideas, creativity, entrepreneurship, innovation, competition, etc.
Read more about the perks of owning a VeeFriend NFT here.
So what real world perks came with your NFT?
Great question. Let's start with an introduction to the company itself.
For a more detailed summary, click below, or read this website.
Launched in 2019, Poolside.fm is a website that plays relaxing summer tunes for free.
I caught myself listening to their playlists while working from home during the pandemic, specifically their "Indie Summer" playlist. I liked them so much, I even purchased this original keychain from their old website.
The company was forced to change their name from "Poolside.fm" to "Poolsuite.net" after a copyright issue in 2021.
After poking around the internet, I found out Marty Bell built Poolsuite - alongside a talented crew of individuals. Marty also quarterbacks Nude and co-owns Tens with Richard Branson.
Initially, I wasn't sure what Poolsuite's plans were for monetization. But after they launched Vacation Inc. in 2021, I realized just how creative and agile Marty Bell was.
That's right, this fella turned a website that played summer tunes into a full fledged sunscreen company - selling high margin products like sunscreen, perfume, tanning oil, and facial spritzers.
Of course, I purchased some.
I own a few bottles of the sunscreen, a few of their t-shirts, and their beach towel - I'm hooked.
I love the nostalgic feels their products give me.
---
Buying the NFT:
Poolsuite has done an incredible job of making their community feel exclusive.
By offering a guest book on their website, visitors felt as if they were partaking in something as exclusive as a wedding.
By offering business cards to their new "associates," (anyone that purchased a bottle of sunscreen from Vacation Inc in April 2021) customers felt as if they were on Vacation's team from the very beginning.
Below is my business card from April, 2021.
Now, by offering a limited number of "Poolsuite Executive Member" cards in the form of NFTs - they've once again made their community members feel like they're a part of something very exclusive.
As an honored supporter of our beloved corporation, it will be our priority to show you an exceptional time throughout your membership and to shower you with perks and gratitude commensurate with your status as a founding member. Please take a leap of faith with us as we collectively build the future of internet leisure. By holding a Poolsuite brand NFT, you place your trust in us to deliver you an ongoing stream of experiences in the months and years ahead.

From ambitious art projects and state-of-the-art financial instruments, to fractionally owning an antique manor house, possibly on the Portofino coast, where people who smell of Vacation® brand sunscreen might serve you chilled Lambrusco wine while you take in the salted breeze of the Tyrrhenian Sea. Your patronage will allow us to go where less adventurous organisations have as-yet failed to go.

With a flourishing community of hundreds of thousands of exceptionally attractive, highly intelligent, and well-moisturised annual Poolsuite FM listeners across our World Wide Web, iPhone and Macintosh properties; the Poolsuite organisation is in a stellar position to create the most leisurely & illustrious brand of the internet's new frontier.
As you read from the above text on their website, by purchasing this NFT I'm taking a leap of faith with them as they collectively build the future of internet leisure, and by owning this NFT I place my trust in them to deliver an ongoing stream of experiences in the months and years ahead.
Which means - I have no idea what real-world value will come from owning this NFT.
Essentially, I paid 0.2 ETH (or about $800) to unlock access to perks offered by a company I'm a "super fan" of.
Instead of thinking about this purchase like "I just spent $800 on an NFT," I'm beginning to think of it as "I just paid $800 for a lifetime membership to a community of incredibly creative people, products, and events."
Try to think about it like this: the American Express Platinum Card costs $550 / year to own - unlocking points (perks) to spend on free travel, hotel, gift cards, etc.
In my mind, I'm essentially doing the same thing.
Instead of paying for the Amex perk of "access to the Delta Sky Lounge at various airports," perhaps I'm paying for "access to an online Poolsuite networking event?"
Or maybe I'm paying for "early access to exclusive products sold by Vacation Inc?"
Or maybe I'm paying for "access to an annual livestream hosted by Marty Bell as he explains to us his vision for the company in 2022 and beyond?"
In short, I have no idea what I'm purchasing or the intrinsic real-world value behind it.
Like the original purchasers of VeeFriends (who paid about ~$2,000 per VeeFriend NFT - which are now worth about ~$40,000 each because of Gary's continual value-adds shown here), I'm putting my faith in a team of people that I believe will create an awesome experience for us "Executive Members."
According to their website, below are the perks I'll receive on day one:
Early access to projects and tokens

VIP Poolsuite.net experience (exclusive playlist & imagery)

Member-only merchandise
In my humble opinion, if I know anything about how Marty Bell's mind works - these perks are just the beginning.
---
Should You Buy One?
I have no idea, and I'm not encouraging anyone reading this post to make a financial decision without consulting a professional.
I'm a Poolsuite super fan - so I'm happy to spend $800 (alongside the other 1,600 super fans) to purchase this NFT. I'm thrilled about whatever Marty & team are cooking up for us behind the scenes - excited to partake.
If you'd like to learn more about Poolsuite, I've linked out press they've been mentioned in over the years below:
If you have some time on your hands this weekend, poke around Vacation Inc's & Poolsuite's Twitter mentions from April - some interesting people tagged them while bragging about their new "business cards."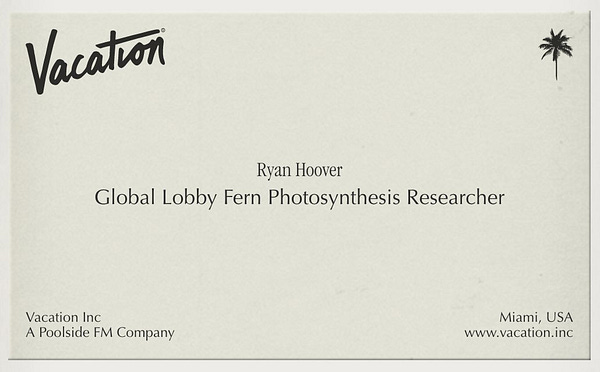 ---
Disclaimer: This is not financial advice or recommendation for any investment. The content is for informational purposes only, you should not construe any such information or other material as legal, tax, investment, financial, or other advice.
This post is NOT at all sponsored. I was NOT paid to post this, and I was NOT asked to post this. I'm simply sharing my unfiltered thoughts around Poolsuite's NFT launch.